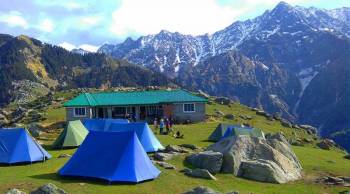 Wake early to enjoy the sunrise. The other thing that you can't miss on this memorable trek along with the sunset, is the sunrise. The view of the sky rapidly changing colors with the rising sun is more than just beautiful - it takes your breath away.
After enjoying the sunrise, you can relax for a while, have breakfast and prepare for the day's upcoming trek.
This day, we'll have to start really early since we'll be retracing our steps that we covered in the past day. However, since the way is mostly a descent, it is easier even for first-timers, and faster.
We'll keep the pace comfortable and enjoy the enthralling trek back.
In the evening, we reach Dharamkot, where this journey ends.